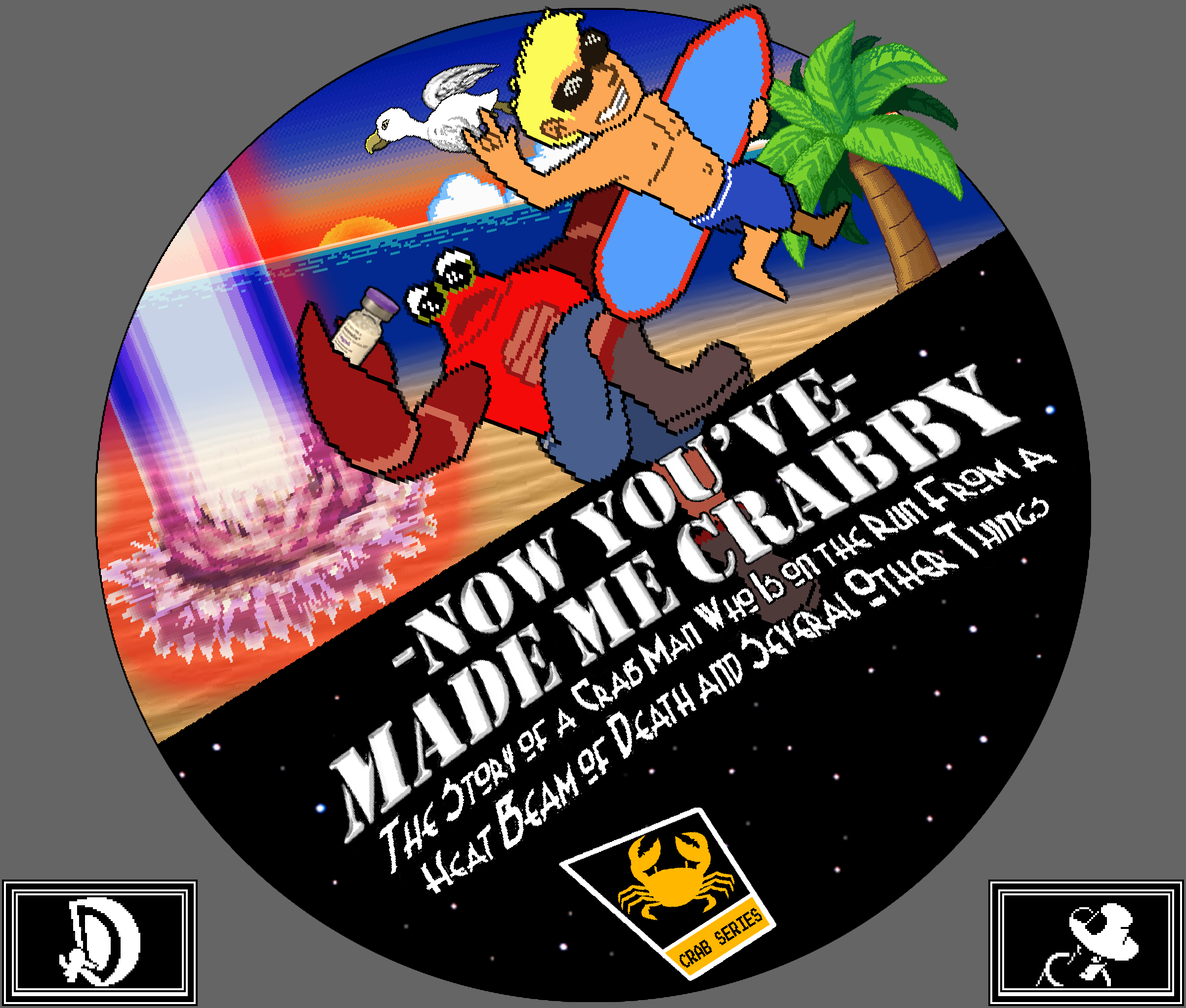 Now You've Made Me Crabby [お前が蟹の俺をお甲羅せた]
Made for PGMMV's Summer Game Jam. Just screwin' with ya. Last summer didn't even happen. This game was hypothetically made for AGM's and GotchaGotchaGame's Pixel Game Maker MV 2020 'Game Development Challenge'. It's the honest truth.

Digital artist StudioDaeera (creator of Coma State Eden) and chiptune composer Firespike33 have reluctantly agreed to collaborate once again to bring you a piece of art that just might happen to be an interactive video game if you squint at it.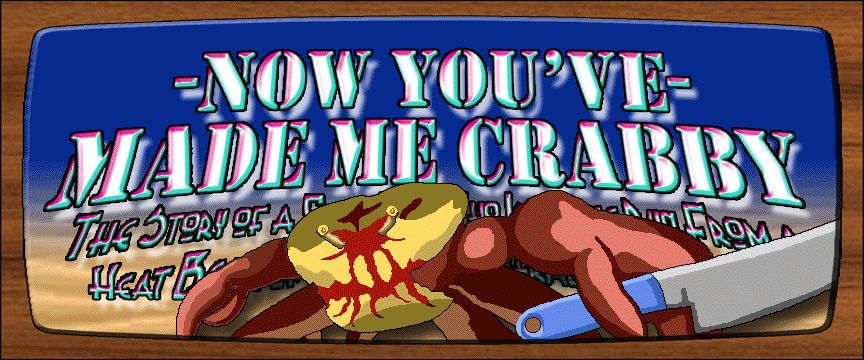 It's summer and things aren't looking good. The military's out for crab blood...your blood. Not even COVID-19 will slow them down. Don't become another failed flavor of ice cream: run for your freedom and escape from the military!!!

As Crab Man, you'll have to watch out for military goons, irresponsible mothers, enemies who run in the opposite direction to you (obstructing your forward motion) and even an environmental hazard that's seemingly warming up the environment with dangerous consequences that are totally not cool unlike the summer.
...Hold onto your lunches—this game is seriously brutally violent...but that's okay. We asked PGMMV about it and they said it was fine!!!


Wield items to aid your escape.
Grab enemies without their permission!
Collect Crab Juice cans & exchange them for vaguely interesting upgrades at the Crab Juice Shop. (Disclaimer: Crab Juice isn't sold at this fine establishment. Only bought.)
This game even tells you that you suck when you die, which should really put things into perspective for you. (Not many games out there have this sort of honesty. Not since loot-boxes.)


For more on Now You've Made Me Crabby,
check out its Wiki page!

--------------------------------------------------------------

アクションゲームツクールMVのサマーゲームジャム2020年のための作品ですあ、冗談冗談!昨年の夏なんて無かったよね。AGMとGotchaGotchaGamesがおくる「アクションゲームツクールMV」のゲームデベロップチャレンジ2020の応募作品であります。ここからは真実になります?


デジタル表現者のStudioDaeera (ゲーム『昏睡状態エデン』の製作者) とチップチューン作曲家のFirespike33が、何とかやりくりして再びコラボを実現させ、遠くから見るともしかしてゲームになっているかもと思わせる作品を生み出した。

舞台は状況が悪化している夏です。軍は蟹の血を流したがる、そしてあなたのも?。新型コロナウイルスでさえ邪魔にならない。決して売れないアイスの味になるな:自分の自由のために、生きるために軍からにげきるんだ!

蟹男として、軍人、無責任な母親達、邪魔する者、そして完全にイケてない影響を与える環境の障害へ対応するのだ。

運営公認!圧倒的な暴力のゲームのため、マジで要注意!!


►アイテムを使ってより効率的に逃げる事
►相手の許可なしで敵掴めます!
►蟹ジュース缶を集め、強化せよ!蟹ジュース屋より(蟹ジュースは販売していません)
►このゲームは親切で、死ぬ時にあんたの下手さにコメントします。世の中を知るために。(ここまで真実を伝えるゲームはなかなかないよ!少なくともルートボックス導入以来)
| | |
| --- | --- |
| Status | In development |
| Rating | |
| Author | StudioDaeera |
| Genre | Action |
| Tags | 2D, chiptune, firespike33, Game Jam, global-warming, pgmmv, Runner, shitpost, simple-controls, studiodaeera |
| Average session | About a half-hour |
| Languages | English, Japanese |
| Inputs | Xbox controller, Playstation controller, Joy-Con |
| Accessibility | One button |
| Links | Wiki page |
Install instructions
The entire game controls with just movement inputs:
That would be the arrow keys on a keyboard,
and the left control stick/d-pad on a controller.

左スティック以外に、ゲームパッドやキーボードの矢印キーも使えます。ESCキーは画面切り替えで、F5はリセットになります。